Modern, High Spec, Wynyard Quarter
---
Absolutely top end - and absolutely a joy to prepare the LTMP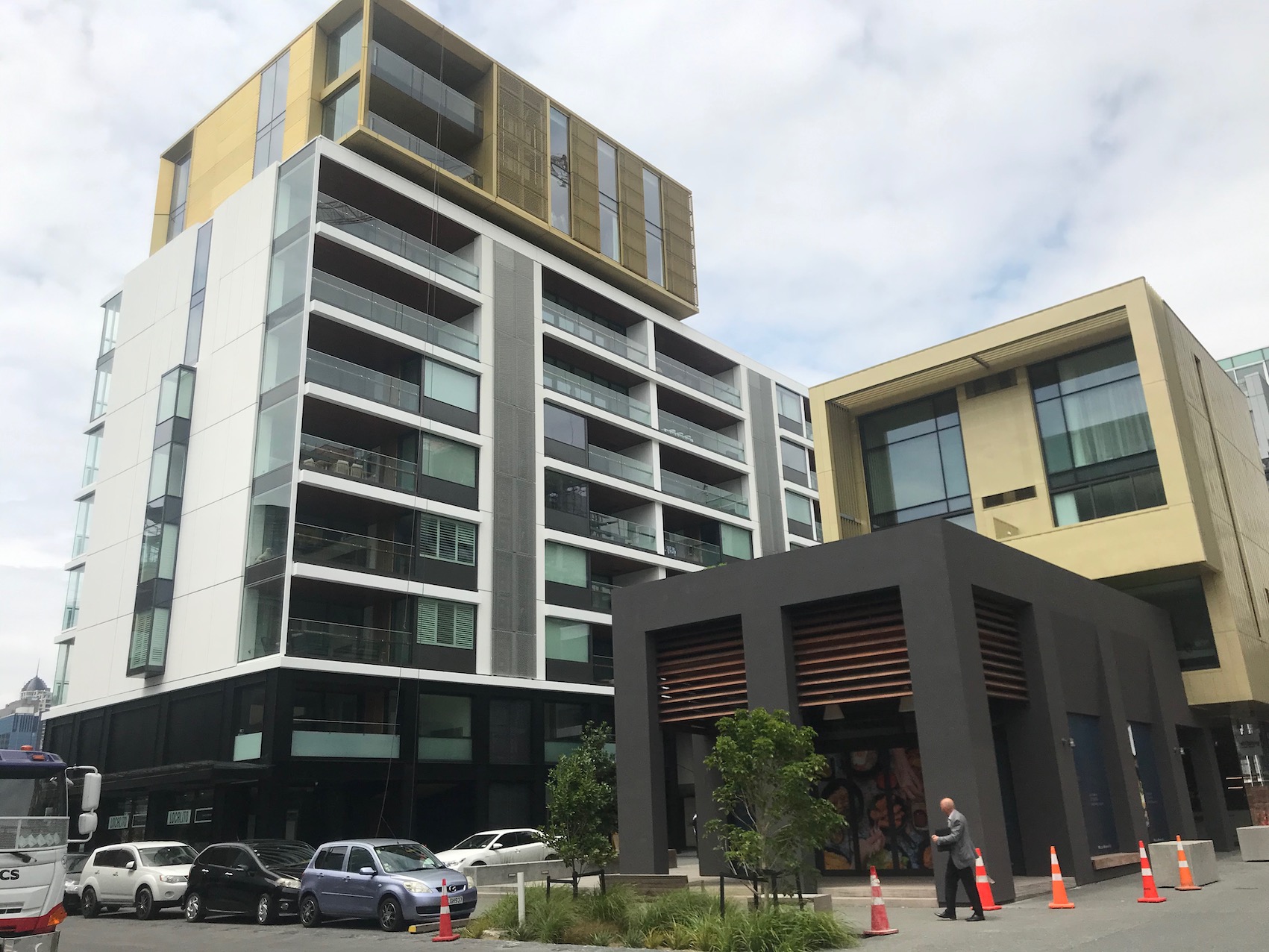 We were recently commissioned to prepare the LTMP for 132 Halsey Street in Auckland's prestigious Wynyard Quarter.
This gorgeous new development is fitted with a range of high spec services including a concierge, a fully equipped fitness centre, a furnished meeting room and a 16 seat movie theatre.
The infrastructure is equally highly spec'd with five elevators, a rubbish compactor, a cash wash in the basement and extensive modern ventilation systems.
But for us as long-term maintenance planners, the real excitement comes from the wide range of modern systems used on the roofs and exterior wall claddings.
Below is what Rhys (our planner on this job) wrote to describe the exterior wall claddings.
"Cladding systems to the development include anodised aluminium EML (expanded metal lathing) cladding, steel plate with paint finishes, glass screens, precast GFRC (glass reinforced fibre cement) spandrels and panels with both paint finishes and natural/polished finishes, timber soffits, aluminium louvres, profiled metal cladding and timber/glass/metal entrances."
But while the maintenance planning for those systems might sound a bit daunting, from a planners point of view, a brand new modern building is actually not that challenging when it comes to preparing the LTMP. That's because - even if we hadn't come across some of the cladding products before - we were able to obtain copies of all of the manufacturer's maintenance specifications, particularly in regard to what is required to satisfy the warranties.
In these large modern buildings, also the body corporate typically appoints a building manager who supervises the maintenance programme. In this case, by the time we were called in, the programmes were mostly all up and running and much of our role was to formalise the maintenance programmes in the LTMP, so their funding can all be approved by the Body Corporate.
So while this development is definitely up there for us as one of the most highly specified we have had the privilege to prepare the LTMP for, it still has a roof, walls, doors and windows etc, etc, just like all other developments and finished document was no longer or more complicated than any others we have prepared.
In fact, compared to some of the old, small, run-down, and broke unit developments we are asked to prepare plans for, this beautiful building in Wynyard Quarter was an absolute joy.
Details of the development
Address. 132 Halsey Street, Auckland Central
Developer: Willis Bond & Co
Body Corporate Manager: First Street Body Corp Management
Building Manager: Dymond McBain
End
Updated by John Bradley
15 March 2020
If you have any feedback or questions please use the feedback form.
The Plan Heaven team.
Disclaimer. Plan Heaven is not qualified in law and any comments made on this website are only the opinion of Plan Heaven and should not be regarded as legal advice. Our comments are merely providing some thoughts on how the legislation might be interpreted and how we go about attempting to meet its requirements. You should not rely on this information in isolation and do you own homework and at all times if you wish to be sure of your position relating to legal matters you should seek advice from a suitably qualified lawyer.